Plan je reis met minder stress dit vakantieseizoen
Of je nu naar huis gaat om vakantie te vieren of ontsnapt naar een exotische bestemming, één van de meest tijdrovende en stressvolle onderdelen van een reisplanning is het vinden van de juiste vlucht en hotel. Negenenzestig procent van de Amerikaanse toeristen maken zich zorgen dat ze niet de beste prijs vinden of een verkeerde beslissing bij het boeken van een reis. Het doen van dit soort aankopen geeft meer onrust een dan zorgwekkende financiële belegging, verbeteringen aan het huis aanbrengen of elektronica aankopen.
Dit seizoen wordt reisplanning minder stressvol doordat je ziet wanneer een vlucht waarschijnlijk zal stijgen in prijs, je wordt geholpen bij het vinden van hotelaanbiedingen, en het wordt eenvoudiger om een reis te plannen op en mobieltje.
Het wordt makkelijker dan ooit om de juiste vlucht te kiezen
Google Vluchten
kan nu meer zekerheid geven dat de juiste vlucht op het juiste moment tegen de beste prijs geboekt wordt. Er wordt nu weergegeven wanneer de prijzen naar verwachting zullen stijgen voor een aantal specifieke vluchten en routes waarin je interesse hebt getoond.
Na het kiezen van een vlucht, kan een melding verschijnen om te laten weten wanneer de huidige tarief zal naar verwachting zal verlopen en hoeveel er bespaard kan worden door nu te boeken. Deze vlucht naar San Diego zal waarschijnlijk meer kosten over acht uur duurder worden - en waarschijnlijk wordt er $87 bespaard wanneer er voor die tijd geboekt wordt.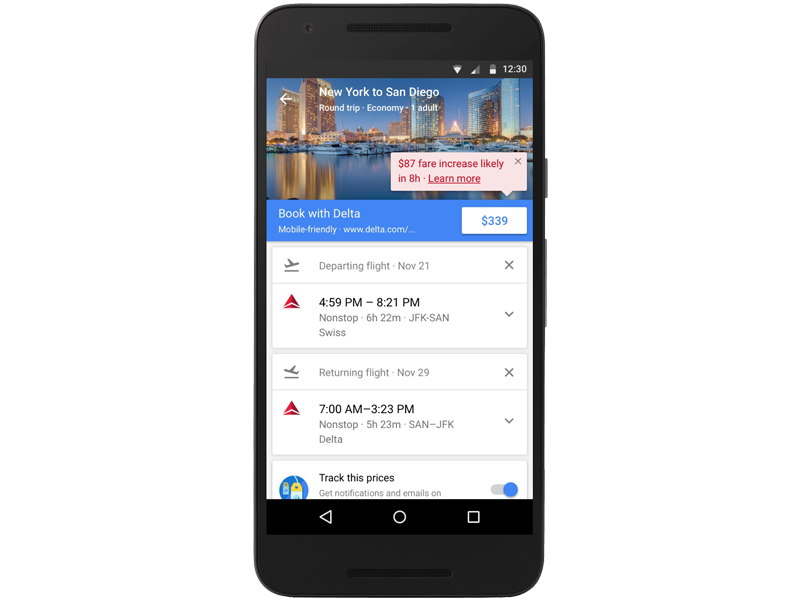 Wanneer gezocht wordt naar een vlucht van New York naar San Diego, maar er nog geen vlucht geselecteerd is, kan er een blok met meldingen getoond worden met meerdere tips om laten hoe de beste prijs voor deze route gevonden kan worden. Tips kunnen onder meer aanbevelingen voor alternatieve luchthavens of data behelzen. Tevens kan er getoond worden wanneer de prijs kan veranderen op basis van historische prijzen voor die route. Wanneer er op de kaart getikt wordt, dan zie je meer details zoals hoeveel de prijs waarschijnlijk zal toenemen en wanneer.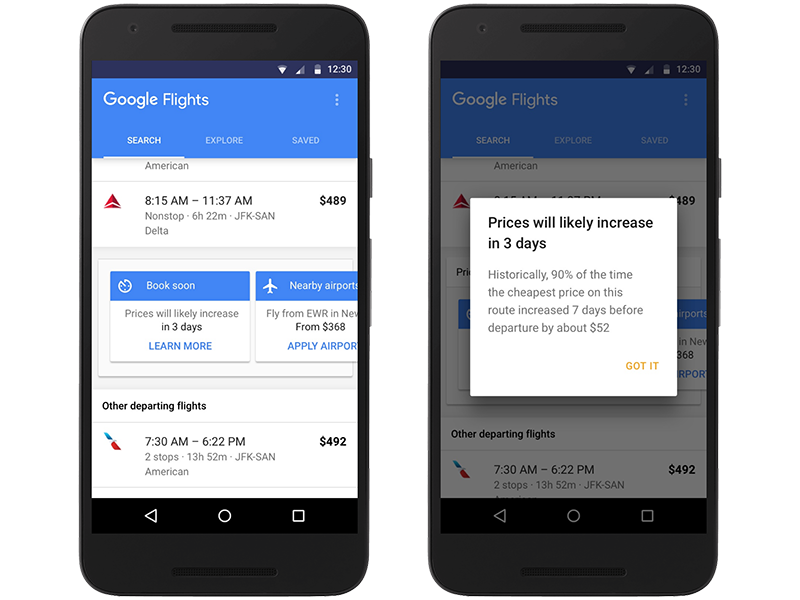 Als je nog niet klaar bent om te boeken, kunt je ervoor kiezen om een vlucht of route te volgen en meldingen via e-mail te ontvangen wanneer de prijzen naar verwachting zullen wijzigen. Prijs verloop en verwachte prijs wijziging zullen in de komende weken overal waar
Google Vluchten
beschikbaar is uitgerold worden. Ook zul je updates blijven ontvangen wanneer de prijzen aanzienlijk stijgen/dalen voor gevolgde vluchten.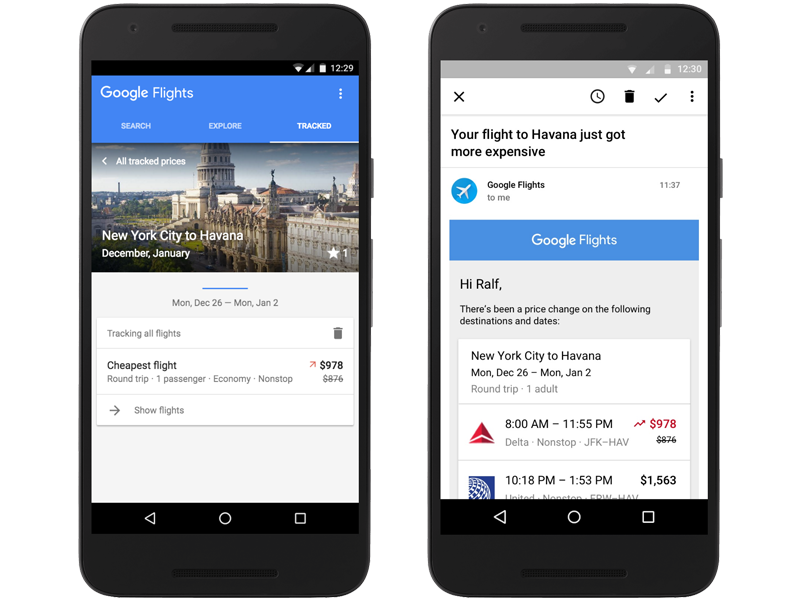 Gevolgde vluchten op mobiel en een e-mail notificatie bij prijswijziging.
Het is nu ook eenvoudiger om onderweg een vlucht te vinden. De volgende keer dat je
Google Vluchten
bezoekt, kun je opgeslagen vluchten probleemloos vinden, beheren en bewerken op je telefoon.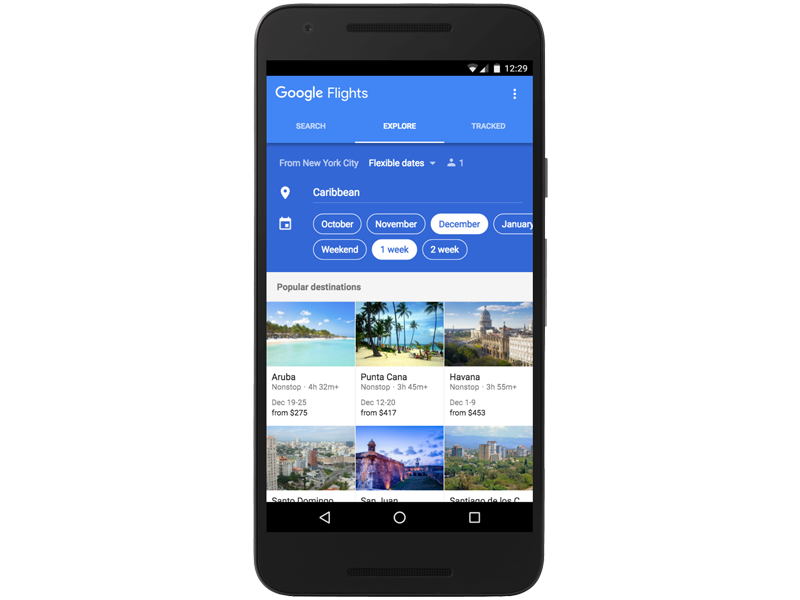 Meer manieren om goede deals in Hotel zoeken te ontdekken
Het is nu ook makkelijker maken om onmiddellijk aanbiedingen herkennen bij het zoeken naar hotels via Google op de locatie van uw keuze, zoals "hotels in New York". Er wordt direct al getoond wanneer de prijs van een hotel lager is dan gebruikelijk vergeleken met historische prijs, of als er kortingen van kracht zijn op het normale tarief voor die data. Wanneer je alleen de annbiedingen wilt zien voor bijvoorbeeld de jaarwisseling in Parijs - dan tik je in de linkerbovenhoek Filter op aanbiedingen en voilà!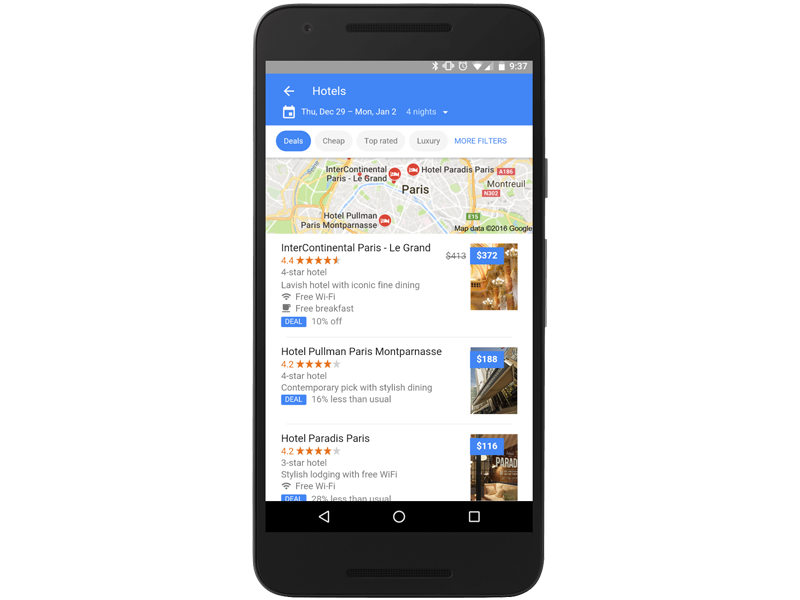 Er worden ook kortingen getoond die beschikbaar zijn voor leden van een trouwe leden programma via de website van een hotel.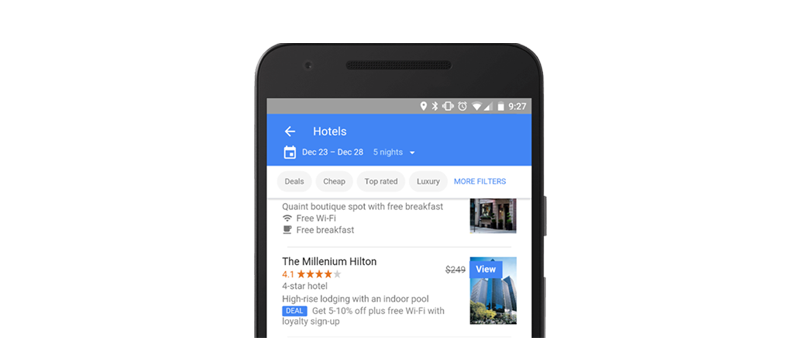 Laat de reisplanning het vakantieseizoen niet verpesten.
Google Vluchten
en een Hotel zoekopdracht op Google bespaart tijd en geld, zodat er meer nuttige tijd overblijft.
Officiële blogpost